Home > Manuals > iQ Whole House Entertainment > IMS Media Server > Using the iQ IMS Hardware > Using the SCK in an iQ Installation
Using the SCK in an iQ Installation
Parts List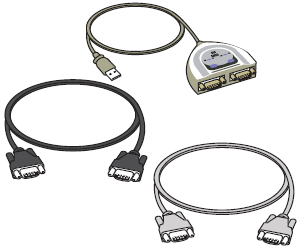 1 - USB to 2 or 4-Port Serial (RS 232) Adapter
1 - 6' F/F (RS 232) Cable (Black)
1 - 6' F/M (RS 232) Cable (Gray)

Additional Parts Required (Not Included)
Connection Guide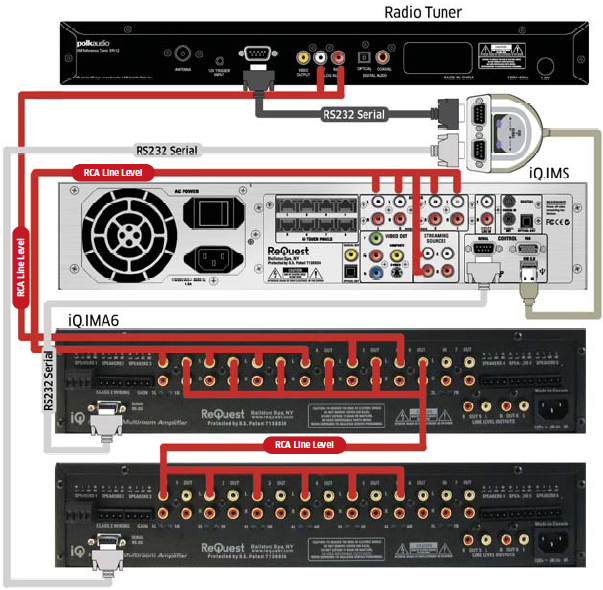 Ensure that ALL devices are completely powered down before connecting.
Connect the SCK2 or SCK4 USB to an available USB port on the IMS.

Connect the F/M RS 232 serial cable from the SCK to the first IMA6.
If there are additional IMA6s, connect additional F/M RS 232 serial cables from the next available port on the SCK to the next IMA6.
If a supported RS 232 device such as a tuner is part of the installation, connect the appropriate RS 232 cable from the next available port on the SCK to the serial port on the device.
Follow the IMA6 Installation instructions for connecting source inputs and loop outputs.

Configuring a Radio Tuner with a SCK

Click on the "iQ Configuration" link at the bottom of the screen.



Click on the link for " Devices"



Click on the "Add Device" link located above the Devices list. Select "Serial" from the control types popup.


Select "Tuner" then the desired tuner from the "Add Serial Device" box. When selected, press Next. A pop-up will confirm the addition of the new device. Select Done on the pop-up.



Select "Device Control" from the Area menu at the top. Drag your tuner to the correct serial port on the right. If successfully detected on the selected serial port, the connection plug will show connected.



Click on the "Sources" link to return to the Sources configuration. You will see the tuner in the list of available sources on the left. Place the tuner source from the left to the input slot on the right where you have connected the tuner to the IMA (refer to above Connection Guide).
Configuring Multiple IMA6s with a SCK
For instructions on configuring IMA6s with the SCK, see the Configuring the IMA6 guide.

See also