Home > Manuals > Legacy Products > Touch Screens and Control > iQ TS.35
iQ TS.35

The TS.35 is a full-color 3.5" 2-way active matrix touch screen that can be placed in any room. In-wall installation requires only a single Cat 5 connection for power, video, and control. The iQ can support up to 8 TS.35s.

The TS.35 brings information to your fingertips. Music is presented visually including Album Art for your stored music, station icons for XM or Sirius, and web logos for streaming radio. A couple of taps on the touchscreen and the perfect music for your dinner party will be playing throughout the house. The local weather forecast and your stock portfolio are also part of the display.
Please note, this product has been discontinued and it not compatible with units shipping from ReQuest as of 3/2010.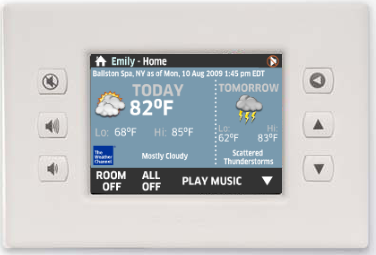 See also